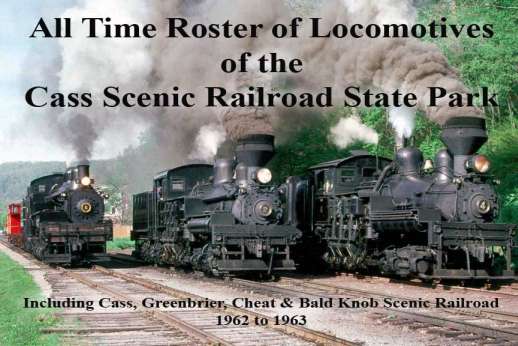 Originally Compiled by Philip V. Bagdon
(Updated in May 2007 by Richard M. Sparks)


The majority of these data were compiled as of June, 2002. Phil Bagdon prepared and maintained this list until his untimely death in 2003.

Jonathan Bailess, of Glenville, W. Va., started compiling updates to the Roster in January, 2012. The updates will be posted as Jonathan can get them ready and his updates are marked with "[JB date]".

Quick Links to the Locomotives:

Servicable Steam Power:
Shay No. 2
Shay No. 4
Shay No. 5
Shay No. 6
Heisler No. 6
Shay No. 11

Inactive Steam Power:
Shay No. [Unassigned]
Shay No. 7
Climax No. 9
Shay No. 10

Disposed Steam Power:
Shay No. 1
Shay No. 3
Porter 0-4-0T No. 714
Ex-Premar Coal Co. Shay (former Mower No. 6)
Baldwin 2-8-0 Rod Locomotive No. 612

Inactive/Infrequently-Used Diesel Power:
State-owned ex-military diesels
Alco/GE MRS-1 No. 26
Alco/GE MRS-1 No. 28
Alco 65-tonner No. 21Alco S4 Nos. 16-17
GE 45-tonner No. 20

Dispoosed Diesel Power:
GM-EMD BL2 No. 7172


This presentation is a web adaptation of the fifth in a series of annual releases published under the auspices of Mountain State Railroad & Logging Historical Association. Some would call this an arcane pursuit, but the Cass Scenic Railroad wouldn't be an active railroad without its locomotives and rolling stock – and each piece has a story to tell.

I compiled a first equipment list in 1967. Occasional updates were made through a 1976 stint as CSRR train commentator. Then, I continued to pay moderate attention to developments, but made no documentation for 20 years. The roster in its current form evolved while again employed at Cass during 1996 and 1997. In summary form, the material was made available to park visitors as brochures.

The root of this endeavor stems from details being non-existent – except in people's heads. You could hunt down some information but the sources were few and rife with errors. Additionally, it came to mind that the departed equipment was important to CSRR history; as time goes on, the information shouldn't be forgotten. Getting the basic information on paper seemed to be the appropriate response.

A list of contributors and sources appears at the end of this website version.

Philip V. Bagdon, June 2002


Overview

All Cass geared power (Shay, Heisler, Climax) is of three truck – "Class C" – design.
Shays were built by Lima Locomotive Works, Inc. and its predecessors in Lima , Ohio .
For Shays, class designation (tons) is listed in the following profile.

This following table of the Cass stable of geared steam locomotives was first provided by Dr. George Deike for Roster Version 2.0 – and now enlarged. Much of this data comes from Shay authority George Kadelak. The average weight (Avg Wgt) in working order was most frequently cited in Lima advertising and literature; this represents a total of a half-full bunker, half-full water tank; water in boiler, fire on the grates, engineer, fireman and shovel.

Cass Geared Steam Locomotives
| | | | | | | |
| --- | --- | --- | --- | --- | --- | --- |
| Cass No. | Type | C/N or S/N | Class | Light Wgt* | Avg Wgt | Full Wgt |
| 1 | Shay | 1519 | 65-3 | 55 | 68 | 77 |
| 2 | Shay | 3320 | PC-13 | 77.5 | 92 | 101 |
| 3 | Shay | 3233 | 80-3 | 82 | 97 | 106.5 |
| 4 | Shay | 3189 | 70-3 | 71 | 85 | 93.5 |
| 5 | Shay | 1503 | 80-3 | 71 | 86 | 96 |
| 6 | Heisler | 3189 | 90-3 | [?] | [?] | [?] |
| 6 | Shay | 3354 | 150-3 | 135 | 162 | 179 |
| 7 | Shay | 3131 | 70-3 | 65 | 78.5 | 87 |
| 9 | Climax | 1551 | C-70 | [?] | [?] | [?] |
| 10 | Shay | 2804 | 70-3 | 62 | 76 | 85 |
| 11 | Shay | 3221 | 90-3 | 87 | 105 | 116 |
| Unknown | Shay | 3142 | 80-3 | 81 | 97.7 | 108 |
| Unknown | Shay | 1907 | 65-3 | 58 | 72.5 | 82 |
* No water and no coal

General notes:
In terms of Shays, use of Construction Number (C/N) is retained; but sticklers can argue Shop Number (S/N) is more correct. Walt Casler, leading Climax authority, set us straight years ago about S/N for all of the Corry, Pa. products. Tom Lawson notes that Casler talked him into using "S/N" for Shays, but adds that he would also be comfortable with "B/N" in light of Lima using Builder's Number for field service reports. In Shay Repair Parts catalogs, a locomotive's Shop Number is a noted requirement for ordering.

The subject of this compilation is the scenic railroad era. The rail-logging past has its own big story, but certainly there is a tie because of the living history of CSRR State Park. The Cass rail-logging era (1901-1960) involved 17 Shays – including up to 12 simultaneously, and a rather short-lived Climax. The first locomotive – Class 40-2 Shay, No. 1(first 1) – arrived and entered service in late December 1900. The most notable Cass Shay was No. 12, a Class 150-3 engine. As converted at Cass into a four-trucker, she was the longest and heaviest Shay to ever operate.

To clarify ownership of the three Shays (and rolling stock) first acquired by the State of West Virginia to start the Cass Scenic Railroad. Midwest Raleigh and Raleigh Steel merged around 1959 as Midwest Raleigh, Inc. Scrap contracting for the dismantling of the Mower Lumber Co. rail logging operation (as owned by Walsworth Farms) was performed under the consolidated name but, by the time the sale of rail assets to the State occurred, reversion to two companies had taken place.

Cass Scenic Railroad's geared steam power collection represents a range of examples of Shay locomotive class and period-of-construction as well as placing the Shay legacy into context with two other designs used in West Virginia timbering industry. Cass might be "home of the Shays," but the significance of having representative Heisler and Climax geared models can not be overemphasized.

There would be no Cass Scenic Railroad had not Russell Baum, a Pennsylvania railfan, shown up for a log train ride in late September 1960. He found the mill closed and railroad being scrapped at a rate of a mile a day. Long story short, this was the foundational element of what would become the CSRR. A miraculous turn-of-events occurred and the three Mower Lumber Shays, a stock of logging cars, and the line from Cass to Bald Knob were saved from the cutting torch.

There was true charm about Cass in its fledgling excursion train days – all original equipment, the real deal. Unexpected popularity coincided with the availability of an elegant, operable Class 70-3 Shay. Park administration had good reason to obtain Meadow River Lumber Co. Shay No. 7; the 1964 season was the breakthrough in terms of proven steady visitorship (the venture was not going to be a "flash-in-the-pan" after all) and Shay No. 1 was, so to speak, out-to-lunch. Ditto for Shay No. 5.

Thus began the influx of "alien" motive power – some enormously useful, others veritable basket cases. In regards to acquisitions, some opportunities have been lost, and amazing opportunities have dropped from out of the blue. Inability to invest in the future (Cass has always been an expensive proposition for the State) thwarted exceptional offerings by two latter-day West Virginia Shay operators – Georgia-Pacific (Swandale) and Ely-Thomas Lumber (Fenwick). A weary-but-interesting Graham County R.R. three-trucker literally fell off the truck – not in an advantageous way – and shipment was cancelled. The compiler calls it the "Shay that never arrived." But some stout, quite reliable power has come the Park's way – including a Pacific Coast Shay, also the last-and-second-largest-ever Shay built by Lima, and most recently, a beefy Class 90-3. Also, there was a valuable leased engine.

Over the course of the park's first decade, besides No. 5 entering service, four top-rate geared engines (three Shays and the Heisler) were brought to Cass and placed into operation. There was then a 19-year period when nothing new steamed on the mountain – Shay No. 6 was out of the picture until the track system was rebuilt as far as Whittaker Station (1991). More than nine years later, the activation of Shay No. 11 occurred.

A few locomotives on the premises have remained dead (in need of serious repair) since arriving. One of these, the Climax, is now undergoing restoration by the MSR&LHA. If not for flood damage permanently curtailing Greenbrier River excursions, the 2-8-0 rod locomotive would have steamed. The biggest heartbreak has been the loss of Shay No. 7. A leased Shay and one of the CSRR originals are also now only memories. And, there was a little 0-4-0T rod locomotive which came and went without ever seeing service. As well as decrepit, crashed-and-bashed Shay that was acquired, stripped for parts and scrapped.

Only three of eight all-time roster diesels have proven any value to CSRR. When the compiler first saw the GE 45-tonner, he threw up his hands and yelled, "Oh no! Not a diesel on the Cass Scenic Railroad!" Soon realized was the shifter's value as "shop goat."




Shay No. 2 -- (Mayo Lumber No. 4) – C/N 3320, 1928; Pacific Coast Class (PC-13).
The only Pacific Coast Shay ever built as a wood-burner; locomotive was converted to oil firing before delivery new to Mayo Lumber Co., Paldi (Vancouver Island) British Columbia as No. 4; to Lake Logging Co., Ltd., Cowichan Lake B.C., 2-43 – became that owner's No. 5; to Western Forest Industries, Honeymoon Bay, 12-46 – No. 5; then to Railway Appliance Research Ltd, North Vancouver, 1-64 – No. 114; as [leased to] Vancouver Wharfs, Ltd. The locomotive became one of North America's last regularly operated commercial-use Shays – sharing waterfront service with a sister PC Shay; the duo was placed out of service in [5]-[70]. Shay 2 was acquired in 10-70, arrived on flatcars, 3-71; unloaded, 4-71; made operational debut, 5-72 – firing with No. 4 diesel fuel. Normal assignment was as Bald Knob road engine; re-entered service after conversion to coal-burning (diamond stack) 5-83 – other major changes also occurred prior to this roll-out. A boiler sidesheet problem – stress crack at the staybolts – found during the 2000-01 off-season resulted in a re-entry into service in 7-01; relegated to regular Bald Knob pusher engine; completely reflued during 5-02. In accordance with FRA Form 4 regulations, new boiler tubes and firebox sheets were installed druing the 2010 through 2012 seasons with a hopeful return to service by the start of the 2013 season). [JB 1/12]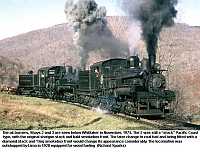 Notes on Shay No. 2

1. It is believed the purchaser got cold feet about a superheated wood burner's fueling needs and requested the reconfiguration to oil.

2. On the North Vancouver wharves, shared duties with Railway Research Appliances, Ltd. No. 115, another Pacific Coast Shay, ex-Hillcrest Lbr.

3. Credited for negotiating sale and ownership transfer to Cass is Doug Cummings of Vancouver, B.C.

4. Fittingly, service debut for Shays No. 2 and No. 3 occurred in conjunction to the charter event commemorating the release of Mike Koch's book, "Shay Locomotive: Titan of the Timber," May 5-7, 1972 .

5. With the conversion to coal, No. 2 became the only Shay to ever have been equipped at various times for wood, oil and coal-burning.

6. The conversion for coal firing was just one task of the lengthy shopping; there were also sidesheets (inside and out), refluing, adding new (old-style) cast iron smokebox door, floorboards, changes to front and rear of cab – solid (all-weather) rear wall replaced along with coal bunker – and new bolsters for front and middle trucks installed.

7. A new water tank (riveted) was built and installed prior to the 1992 season (old tank is at Whittaker Run).

8. Notable service: the first CSRR power to work on the old GC&E (via the Cass Hill and Spruce) – dumping gravel at Beaver Creek in 4-98. It was the first Shay to the Big Cut since 1939 – 54 years.


Shay No. 4 -- (Mower Lumber No. 4) – C/N 3189, 1922; Class 70-3. Built for the Birch Valley Lumber Co., Tioga (Nicholas County) as No. 5; involved in a notable wreck on 2-41 – hit a broken rail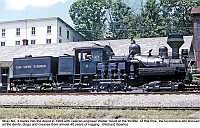 near Sprucie Low Gap, tumbled and inflicted four scalding fatalities; shipped by flatcar to Richwood and repaired by the Cherry River Boom & Lumber Co. shop, then returned to service and worked until the mill's closure, 5-43. Acquired by Mower Lumber Co., Cass, [?]-43 – shopped prior to service. After about 1957 worked predominantly May through October while plow-equipped Shay No. 1 served during winter months; pulled last log train on 6-30-60; sold for scrap to Midwest Raleigh Inc., 9-60. Shay 4 was the primary power during the salvaging operation (bringing in skidders, cars and loads of rail) beginning in 9-60. Conveyed by Midwest Steel Corp. to the State, 8-62. First scenic excursion road engine, 6-63; after breaking an axle in 7-63, C&O Railway's Russell (Ky.) shop furnished a replacement (axle built for a GM EMD GP30 diesel-electric); powered the first off-line excursion (to the Mountain State Forest Festival, Elkins), 10-64; received particular attention prior to the 1965 season. Road engine for the Bald Knob Inaugural, 5-68; extensive shopping began [9]-90, completed in 5-93. In recent years has mostly served as the Bald Knob pusher. Placed out of service upon discovery of a hole in the crown sheet, 7-99; original plans to expedite the repair and get her back on the road in August failed to transpire; repair began in 10-00, but was halted when the 2000 season ended; additional attention was given to the project during the 2001 operating season; this work resumed in 5-02 (after shop space became available). Returned to service in 05-07.

Notes on Shay No. 4

1. Although she was owned by Birch Valley Lumber Co. until the sale to Mower Lumber, C/N 3189 was inspected and ICC-certified under the auspices of Strouds Creek & Muddlety R.R., BVLbrCo's common-carrier subsidiary, beginning in 193[?].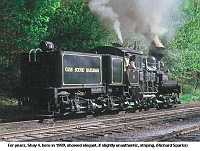 2. Sprucie Low Gap wreck victims in 2-41: Omer Fitzwater, engineer; Veon Cox, fireman; Moody McCoy, brakeman; and George Harrison, the "last male owner of the old Tioga Lumber Co.," who had gotten on just a mile prior to the wreck.
3. A specification sheet was issued by Lima on 2-26-42. The citing of repair at Richwood and a return to operation at Tioga stands as correct; reports about coming to Cass and being overhauled there had to do with what Clyde Galford termed "not being kept up." Artie Barkley cited specific cases Galford provided in terms of jury-rigging by BVLbrCo. 4. Mower shopmen rendered a red/black mix paint job on cab, bunker and tender out of a requirement for using "what was on hand." This reddish-black paint blend appears in photos as early as the summer of 1954.
5. Builder's plates walked off in the late 1950s – one (crowbar-damaged) was recovered in 1983. While the number plate was still present in 6-60, for CSRR's activation, she wore a crude 4 painted on a disk; a replacement plate with 4 circled by "Cass" and "Railroad" (see Shay No. 1) came in 9-63. The accurate Lima replica plate was mounted in [6]-70 – photos document the Cass Railroad No. 4 plate still affixed in 5-70.
6. See Shay No. 1 notes for lettering during the period of 10-60 to 6-63.
7. To promote the state's pending acquisition of the railroad, No. 4 was limbered up – providing free demonstration runs between the depot and shop – during [September and] October 1961.
8. Prior to scenic excursion start-up, C/N 3189 received a flue job and new boiler jacket. One account claims the work began in [10]-62 and continued during the winter.
9. No. 4 was the first locomotive (pre-season 1964) to receive the standard gold CSRR Roman lettering and striping style.
10. All five remaining Mower-era axles were replaced by GP30 (diesel-electric) axles prior to the 1966 season.
11. For the first off-line venture, the Mountain State Forest Festival in Elkins (10-65), No. 4 powered a 5-car excursion set and C&O caboose.
12. It would be years before the original look – riveted tender and bunker, scars acquired from decades of timbering use finally faded completely.
13. Between [1981 and 1993], No. 4 wore ornate cornered gold striping which framed the cab sides, bunker and tender (sides and rear).
14. No. 4 suffered another broken axle on 10-3-85 – en route to Cass at MP 5 after Bald Knob pusher service. A spare wheel and axle set were taken to the site and installed with the help of the American loader; the ordeal concluded by 1 a.m. with the wreck train, No. 4 and the Bald Knob train's return to Cass. Next day, a wheel and axle set was removed from No. 7 (the set used for the rescue was not identical to No. 4's); with No. 4's tires installed. She was back in service after just one day of intensive work.
Shay No. 5 -- (Mower No. 5) – C/N 1503, 1905; Class 80-3. Built for the original Cass-based railroad, West Virginia Spruce Lumber Co.'s Greenbrier & Elk River R.R. Shay 5 is the oldest and longest-operating Shay at Cass. Originally assigned to the Cass Hill as road engine; various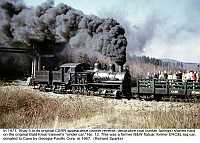 assignments while based at Spruce and on Elk River – until about 1939 the locomotive came to Cass only for heavy repairs. Became Mower (MLbr Co.) No. 5 in 6-42; equipped with power reverse in ICC compliance (applicable to locomotives 100 tons or over) for operation on the Western Maryland, 6-42. Involved in a head-on collision with a WMRy H-8 2-8-0 at Spruce, 10-2-42; due to her weight and the deteriorating railroad, saw little work after 1953; used at the Cass Mill as a steam source during the "Big Freeze," 3-58 – and as needed for other periods when deep snow prevented logs from being shipped. This service ended in [2]-59 – when all cylinders were cracked by freezing out of negligence. Set aside in the upper end of the shop; sold for scrap to Midwest Raleigh, Inc., 9-60; conveyed by Midwest Steel Corp. to the State, 8-62. What was envisioned as a $20,000 repair – "every part except trucks, cab and boiler replaced" – didn't turn out as such; CSRR service debut was 5-5-66; shopped during [at least part of 1968 and throughout 1969]; became the regular Bald Knob helper and retained that status until No. 7's demise, then served as regular Bald Knob road engine until No. 2 took those duties. When shopped for firebox flue sheet replacement ([10]-95), a cracked boiler throat sheet was eventually discovered; repairs included all new stay bolts, a replacement cylinder, smokebox, smokebox ring, smokebox door, exhaust gooseneck; several setbacks occurred in out-shopping (outside-contracted parts not correctly machined, the boiler welder's retirement) occurred; a newly created water tank was borrowed from Shay No. 11 in 9-99; out-shopped and tested on 9-31-00, then placed into service the next day as Bald Knob pusher engine – an assignment held (as needed) throughout the operating season's remaining weeks (sans tender letter lettering); served as the Bald Knob pusher engine during the first part of the 2001 season then, with No. 2's post-shopping reactivation, went to standby status.
Notes on Shay No. 5
1. Arrived 11-08-05; first run on 11-11-05 (Shaffer-to-Slaymaker correspondence, company correspondence).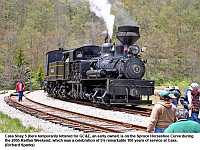 2. No. 5 held down Cass Hill duties until Class 100-3 Shay No. 8's arrival in 1912, then mostly worked out of Spruce transferring log cars from pick-up spots along Shaver's Fork until that venue was logged-out, then went over to Bergoo and worked Leatherwood Creek's two forks. Later served regularly out of Slaty Fork (she enjoyed an occasional odd call, but typically relegated to woods spurs – and Baldwin Mine runs in the 1930s). The end of the Class 150-4 Shays (Nos. 12-13), returned her to the status of largest operational Shay on the railroad.
3. The steel cab that replaced the original wood one was off a scrapped C&O Shay, part of two carloads of parts included when Cass purchased two retired Class 150-4 Shays (which became GC&E 13 and 14); the date of installation would be after 2-23. George Kadelak helped confirm this theory that existed for many years by arranging for Allen County Historical Society to send Lima 150-3 cab drawings to Artie Barkley, who took measurements in 4-01.
4. Oral history citing Mower somehow misinterpreting the ICC edict and thus installing the power reverse is considered inaccurate at this time. All steam power 100-tons or larger operating over a common-carrier fell under ICC compliance. 5. Documented service in 4-56 and [?]-[58]. The miles of almost-ridgetop track between Big Run and Cabin Fork offered added challenges to operating this large Shay because of the soggy surface conditions in tandem with 65 lb. rail spiked directly to ties without plates and untreated ties on unballasted surface.
6. No. 5's use at the Cass Mill came as the result of heavy snow blocking movement of logs from the woods. As built, the boilerhouse was equipped to optionally burn coal, but Mower did away with this capability. The 5's mission was to feed the boilerhouse enough steam to keep pipes from bursting (previous damage under similar conditions was considerable). Thanks to Ivan Clarkson's slides, she is documented behind the mill (black smoke rolling in one view) during the "Big Freeze" on 3-23-58. No. 5 was operating on the mountain at least a few times during 1958, so reports of the cylinder cracking incident occurring during the Big Freeze are erroneous – the incapacitation occurred during the winter of 1958-59. Stored in the upper right corner of the shop, No. 5 sat in one spot so long that the rail sagged under her weight.
7. Appearance has changed considerably since early CSRR years, including loss of riveted tender and bunker and removal of the power reverse (with air tank moved back and addition of a tool box) [between 1977 and '79]). A one-piece bottom bracket was installed prior to 1987 service. Her original CSRR look (1966) included decorative coal bunker fairings, unusual cab backhead/bunker skirt and high-mounted tender headlight.
8. Builder's plates were not affixed to the smokebox replacement made during the logging era (c. 1925?).
9. No. 5's front plate was removed, likely by a visitor, prior to 1958; she was in service on the CSRR for several years before an authentic Lima front number plate was acquired – first outfitted with a very unauthentic front plate (5 inside a single, raised plain circle different from the type worn by Shays Nos. 1 and No. 4). The current front plate, an accurate reproduction, was installed prior to the 1971 season.
10. The bell was removed and mounted on No. 4 (for the bigger sound and ornate raised stripes) prior to the Governor's inspection tour in 4-61. It remained on No. 4 until after the C.P. Huntington NRHS charter of 5-61, then removed and placed on the shop floor. Sometime soon afterwards, before the State acquired the railroad equipment (despite the bell belonging to No. 5, which was owned by either Midwest Raleigh or Midwest Steel – depending on the date), Don Mower dispatched a log truck to the shop and loaded numerous items (a pre-existing arrangement may have been in place). Don Mower had the bell placed in a back office of the company store. In 1966, he sold Don Mower Lumber Co. to J.W. Harrel. This new Don Mower Lumber organization sold the company store's interior (fixtures, furniture and bell) to Cass Country Store, Inc. – Warren "Tweird" Blackhurst, Stella Blackhurst and Jessie Brown Beard Powell, principals. Powell happened to outlive the others. The bell was moved under Powell's direction to a storefront window for display in 5-9]?]. When she sold the store to the State (hence the State Park-operated gift shop), the bell remained on display. There is optimism that a purchase arrangement for No. 5's bell can be negotiated by the state so it can be returned to the engine.
11. Crown sheet was replaced in 1968.
12. A description of a visitor during the fall of 1968: "not a straight line on her ... a dented, sway-backed carcass..."
13. During the period Richard Carter regularly ran No. 5, decorations included a brass "Safety First" disk from a Cherry River Boom & Lumber locomotive mounted from the front headlight bracket and Southern Ry. eagle. (For a period, the Safety First disk was also worn by Shay No. 4.)
14. New running gears, line shafts and tires were installed prior to the 1991 season.
15. Numerous special tributes were organized for the locomotive's 100th birthday – the second oldest Shay in operation.
Shay No. 6 -- ("Big Six," Western Maryland Ry. No. 6) – C/N 3354, 1945; Class 150-3. The last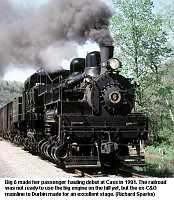 and second largest Shay ever out-shopped by Lima (ordered 5-44, completed 4-45); built for use on Western Maryland's Chaffee Branch (Garrett County, Md.) – kept at Vindex; after Manor Mine No. 3 played out in [9]-50, stored first at Vindex then Maryland Junction before being removed to Hagerstown. Subsequent to WMRy accepting the B&O Transportation Museum donation request, she received extensive overhaul at Hagerstown (Md.); operated in steam – trailing two cabooses – to Baltimore, 8-53; displayed in the museum's Mount Clare roundhouse for more than 26 years, then a trade arrangement was hatched to bring her to Cass. The swap (including Cass Shay No. 1 and the ex-Army Porter 0-4-0T No. 714) was approved in 5-80; the move occurred in 8-80; picked up at Durbin by Heisler No. 6. Shay 6 was tested as far as the lower switchback on 4-1-81; excursion service debut was 5-17-81 on the former C&O Greenbrier Subdivision to Durbin. Clearance restrictions and weight brought sparing use on the actual CSRR (pulled a railfan charter to the lower switchback, 5-84); entered regular service on the thrice-weekly Greenbrier River excursions, 7-84. Track system upgrade allowed operation to Whittaker Station beginning in 6-91; extensive shopping for boiler side sheets and other repairs commenced in 10-93, returned to service 10-96. Regular Whittaker power since that time. Rebuilding of the mountain wye (used in switchback fashion to circumvent the sharp mainline curve) permitted use to Bald Knob – the first run to the top occurred during Railfan Weekend, 5-97; filled in to Bald Knob, 8-97; after several years of problems with a hot-running crankshaft, part was sent for turning and grinding by a Louisville (Ky.) machine shop and reinstalled prior to the 2000 season.


Notes on Shay No. 6

1. An interesting connection with the Cass logging operation: No. 6 replaced former GC&E/WVP&P No. 14 (C/N 2248) as the 3-mile-long Chaffee Branch's regular power.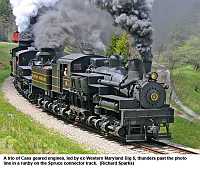 2. Western Maryland No. 6 was the B&O Transportation Museum's first outside acquisition.
3. Other than the trip to the museum, No. 6 was never operated by WM Ry with the fireball logo, side striping and red cab roof. These touches had become standard on WM locomotives by the time of this final shopping and were applied in Hagerstown prior to conveyance.
4. As displayed in the B&O Museum, her interpretive placard's header read "Iron Mule." (How do you describe a Shay?)
5. The birth of the notion for bringing Shay No. 6 to Cass occurred in 2-80 when Lloyd Lewis, Chessie System director of news and community relations, heard the B&O Railroad Museum curator remark that the Shay should be removed from the Mount Clare Roundhouse due to being "out of sequence" with the other locomotive exhibits. The original proposal called for an exchange of Cass Shay No. 1 and the Porter 0-4-0T on a 10-year lease; an agreement was approved in March 1980, but a month later, Chessie System stipulated an additional item – one of SBVRR's ex-Army rail ambulance cars.
6. The movement from Baltimore was headed by (ex-B&O) GP-35 No. 3556; also in the consist was SBVRR rail ambulance No. 103, SBVRR boxcar No. 229 and (ex-B&O) bay window caboose.
7. Arrived at Cass on 8-23-80. Fire bricks were specially fabricated by the shop (14 across the top of the box were found cracked and unusable). Also a crack in a journal box was welded. Wood pilot components, lubricator, injector lines and water glasses were replaced. A steam siphon system was installed for taking water on the mountain. Then she was ready to go ... but to where?
8. No. 6's appearance has changed marginally since her arrival at Cass – most notably the high side walkway rails have been removed. She retains interesting running lights. Originally, a brass ownership plate[s], mounted under the engineer's window proudly claimed on-loan status from CSX – [this/these] vanished in 199[1].
9. Her most extensive workout since service on the Chaffee Branch was an ex-SBVRR equipment move from Greenbrier Junction on 10-27-85 .
10. After the 1985 flood closed the Greenbrier line, No. 6 languished except for special events until the track system's upgrading was completed to Whittaker. With boiler tarped, she spent time outside.
11. Entered service to Whittaker Station in [6]-91, but suffered a cracked crankshaft – which rendered her down for most of the season.
12. Rebuilding the Big Run wye in 4-97 allowed operation to Bald Knob; the mainline between the two wye legs has a 36 degree curve – too sharp.
Heisler No. 6 -- (Meadow River Lumber No. 6) – C/N 1591, 1929; Class 90-3. Built by Heisler Locomotive Works (Erie, Pa.) for Bostonia Coal and Clay Products, New Bethlehem, Pa. as No. 20.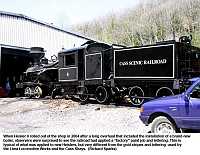 Acquired by Meadow River Lumber Co., Rainelle (Greenbrier County) – arrived 1-29-39, first test run 4-10-39; equipped with Radley & Hunter smokestack (1939) and Worthington feedwater heater system (1941); mostly served as MRL's transfer engine (making turns over the Nicholas, Fayette & Greenbrier to empty/load exchange points between woods mainline trackage); retired from regular service when diesel-electrics went into operation during 2-57; last geared steam locomotive used by MRL. Inspections kept current despite rare use; came to Cass on her own power via the NF&G and C&O Ry, 12-66; introduced into service during Bald Knob Inaugural Weekend, 5-68 (Sunday performance ahead of ex-MRL sister No. 7 as far as Back Mountain Crossing). Entered regular service to Whittaker, 5-69. Because of her speed in comparison to the Shays, served as power for off-line events; the Radley & Hunter was replaced with a diamond stack prior to the 1970 season; work on middle truck and other repairs occurred during 1992-93; rendered out-of-service with a boiler problem discovered in 5-95. Became first subject of a Division of Natural Resources (DNR, the government agency in charge of Cass) boiler replacement program; contract was awarded to Sistersville Tank Works (Tyler County), 10-97; new boiler delivered to Cass, 12-99. Engine was placed in service 5-04.


Notes on Heisler No. 6

1. Heisler C/N 3189 is a saturated steam model built using a 1924 boiler during a period the company was out-shopping superheated "West Coast Specials."

2. Original ownership has also been cited as Hog Hollow Tile Co. In terms of purchase and parts order records, Hog Hollow Tile may have been the parent firm or Bostonia Coal & Clay's subsidiary (or vice-versa). The connection with New Bethlehem, Pa. extended to C.E. Andrews Lumber Co. of that town, which joined the Raine family to form Raine-Andrews Lumber Co. in 1901. Charles E. Andrews, Jr. was a member of the board for Meadow River Lumber Co. into the 1950s.

3. The Worthington feedwater heater installed at Rainelle in 1941 was a major oddity among North American geared steam power.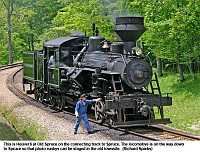 4. Bill Johnson, Rainelle shop foreman (master mechanic), wrote in his diary on 1-5-42 : "We are working on the Heisler engine. She is a joke. Was [a joke] when it was built and will still be when Hitler takes over." There was no strenuous work for the engine at the clay products company. Meadow River had a lot of trouble with it on steep grades. MRL had difficulty finding gear oil that worked on the Heisler.
5. Her first experience in people-hauling predated Cass by 13 years – powering flatcars (with rough-cut board railings) and two cabooses over Meadow River woods trackage between Anjean and the skidder set on Smokehouse (NRHS Louisville Chapter), 5-55.
6. Last date of service at Rainelle is unknown – documented as in steam during 11-61.
7. The State paid $20,000 for the Heisler and an extensive inventory of parts (the latter shipped in a gondola).
8. Photos of the arrival in Hinton, where she overnighted, during the live move from Rainelle to Cass (December 15-16, 1965) show the train included several C&O M-of-W cars, a flatcar-equipped with clamshell crane and a caboose. The Heisler left Rainelle on the NF&G with only a caboose in tow, so the other cars were apparently picked up along the way. Both segments of the move are remembered by railfans as true adventures in winter train-chasing (driving snow, howling wind, lots of shivering, bad roads).
9. Her debut was an added bonus to Bald Knob Inaugural Weekend, 5-68; the compiler first saw her cold on the ready track extension the previous summer (prior to shopping). She looked really sweet; the compiler is admittedly fond of Radley & Hunter stacks.
10. Cass quickly removed the novel Worthington feedwater heater. A couple of discarded BL-1 feedwater pumps were piled back of the shop in 1969.
11. Although as yet untested on the mountain above the lower switchback, No. 6 went on a road trip to the West Virginia Strawberry Festival in Buckhannon (via the C&O, WM and B&O), 6-68. Most of the 1970s found the Heisler sharing Whittaker duties with Shay No. 3.
12. As long-time regular Whittaker Station road engine, No. 6 was run by "Red" McMillion, whose experience at the throttle went back to her Meadow River days.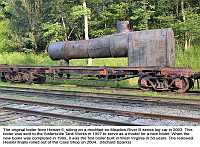 13. Off-line revenue use was as follows: 1) West Virginia Strawberry Festival, 6-68; 2) Mountain State Forest Festival, annually from [10-68 to 10-77]; 3) Pennsylvania Railway Museum Association, Elkins-to-Spruce-to-Durbin, 10-68; 4) [Sponsor unknown], Elkins-to-Durbin, 10-69; 5) Elkins-to-Cheat Junction (as part of the Western Maryland Fellowship Association-sponsored excursion to Spruce) for several years [certain 1970-72]; 6) Salt Sulphur Specials, Webster Springs-to-Slaty Fork, 5-71, 7) Pioneer Days, Marlinton, 7-82; 8) Marlinton to Cass, 7-8-78 – track spread on a curve causing derailment, riders rescued by Shay No. [?] and cars. Listings 3, 4 and 5 were in conjunction with returning equipment from the Forest Festival.
14. The Radley & Hunter-type stack remains have sat between creek and mainline (above the upper shop lead) for over 30 years.
15. Service includes use as the pusher in 10-90, during a season when Bald Knob service was suspended due to track system rebuilding.
16. She was back in the shop during the 1991 season with the binding problem that was first experienced the previous year. Roll out after repair of the front truck gear box occurred in [4]-92.
17. Boiler completion was celebrated at Sistersville Tank Works by 600-to-800, including plant employees, politicians, DNR officials, CSRR staffers on 8-27-99. This was the first boiler built in West Virginia in 50 years.
Shay No. 11 -- (Feather River No. 3) – C/N 3221, 1923; Class 90-3. Built for Hutchinson Lumber Co.'s Oroville (Butte County) Calif. mill operation as No. 3 (this venture was sold and became Feather River Pine Mills, Inc., 4-27); transferred to assets of common-carrier Feather River Railway when it was established by FRPM, [?]-39. Became Georgia-Pacific property when the logging job and FRRy were acquired, [?]-55. Engine always retaining No. 3. To standby status with arrival of an EMD diesel in 10-61; retired in 3-65; conveyed to Pacific Southwest Railroad Museum Association (now the San Diego Railroad Museum), 5-67. First fired up by the museum in 6-69, then used on various occasions until 1991. Acquired by Cass with the assistance MSRLHA, which furnished the cash deposit, [5]-97. Disassembled at museum site, Campo Ca., by MSR&LHA volunteers and Cass crew and trucked to Cass, 10-98. The original plan was a near-total renovation prior to entering service in 5-00; the boiler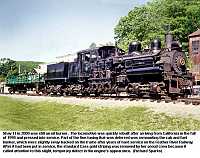 was hydro tested and found to be in good shape. Based on the decision in 2-99 to activate her for one test run to the top and possible 1999 standby use, work commenced in the upper (car) shop. The plan, a quick patching-up and using No. 5's new water tank began with replacement of broken stay bolts. The attention lasted only so long, until pre-season labor needs necessitated focus elsewhere, thus there was delay. Work continued sporadically after the season began; the impetus for roll out was No. 4's incapacitation (7-99); prep was targeted for completion prior by Labor Day weekend; activation was further delayed by tardy arrival of fuel oil (no. 2 off-road) diesel); tested on the mountain with cars and turned on the wye on 9-9-99; entered operation on the 3 p.m. Whittaker run, 9-17-99; the next day, worked as Bald Knob pusher and remained in that capacity (as needed) until the season's finale. Running gear work and a riveted water tank were completed for the 2000 season; operated as needed in Bald Knob pusher service until incurring a crankshaft problem in 8-00; shopping included grate, a new crankshaft, bunker conversion to coal fuel and frame straightening. Became the Bald Knob road engine at the start of the 2001 season.
Notes on Shay No. 11
1. Hutchinson Lumber was a West Virginia-based operation; in-state mill sites included Meadow Bridge and Sevy (both in Fayette County ) and Dingess ( Logan County ). The California operation where C/N 3221 worked was sold because it was losing money. Reportedly, the West Virginia locations active at the time continued to make a profit.
2. Originally used from Oroville to Land Siding (via Western Pacific trackage rights – 8 miles) and then over HLbr Co.'s 21-mile logging line into the Sierra high country. A new mill was built by Feather River Pine Mills at Feather Falls in 1939 and the railroad between Land Siding and Feather Falls became the common-carrier Feather River Ry. Trucks replaced rail-logging in 1950; she continued in service hauling finished lumber to Land Siding – a section of railroad which included a 5.5% grade and curves as sharp as 28 degree in the climb out of Feather River Canyon.
3. During her timbering days, damage to drawheads (on both ends), front frame bolster and frame occurred. Originally, the Cass shop speculated that there had been impact to the rear (perhaps a runaway log car); recent thoughts have turned to it dropping through a bridge.
4. The San Diego Railroad Museum also received a truckload of Shay parts in the donation package from Georgia-Pacific.
5. Arrangements were made for storage by the Orange Empire Trolley Museum (Perris, Orange County), but it was determined that length and weight prohibited movement via panel tracks onto OETM's grounds. A rerouting to San Diego occurred, with C/N 3221 being stored near the Miramar Naval Air Station (and the Santa Fe 22nd Street Yard). Rehabilitation began in [?]-6[8], relettered as HLbr Co. No. 3.
6. First public outing involved being pushed non-fired by a diesel at the National City Centennial in [?]-69. From the [Miramar site] she was steamed up for two days in 7-69; other dates of activation were 1-1-70 and 2-14-70 and other times including use on the "Miramar Chief" in 1980. She was moved to the La Mesa depot in 9-81 and "occasionally put in service". A particularly memorable event was "working hard" with the museum's equipment collection during the move to San Ysidro, [7]-8[3]. It is unclear if the following occurred on that date or was a separate event. On 7-30-83, while pulling San Diego Railroad Museum's 18 car train through Tijuana, Baja Ca. (at Garcia Station, 7.8 miles south of the border) a weld on the lower portion of the Johnson bar broke, causing cracks in [two] other parts. The museum collection again relocated – this time to Campo – in [?]-8[5]. Subsequently [during 1985-86] she was "fully restored". Placed into service on the museum's trackage (ex-San Diego & Arizona mainline) out of Campo, in [?]-86; last run at Campo occurred in [?]-91. There was also activation for a "mini-exhibition" in downtown San Diego. "Rail Classics" ran an article about the run through Mexico to Campo.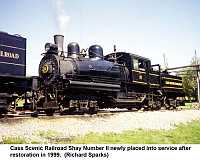 7. Win Mott, San Diego Railroad Museum executive director, was instrumental in the transfer to Cass. The objective was to finance acquisitions and restorations of equipment more relevant to the region. The loan to the State for a $5,000 down-payment was approved by MSRLHA on 9-14-96. The sale was finalized with approval of ISTEA funding; a check for the purchase was presented in a ceremony at the governor's office in 12-96.
8. During the final stage of rollout prep at Cass (8-99), she received yellow striping and matching Poster Bodoni lettering. Striping and letter style is of note since this is the first CSRR-lettered power to break from the color (gold) and Roman typeface style adopted prior to the 1964 operating season. The front number plate was fashioned in the Cass shop and hand-lettered by engineer Danny Seldomridge. The first excursion run trial occurred on the 3 p.m. Whittaker train, 9-17-99. (Big Six followed her to the second switchback – just in case.)

Inactive of Steam Power
Shay No. [Unassigned] -- (Agnew Lumber No. 3) – C/N 3142, 1920; Class 80-3. Built for Eastern Railway & Lumber Co., Centralia, Wash.; conveyed to S.A. Agnew Lumber Co. at Centralia, 10-42; retired in [?]-49. Stored inside lumber company shop until [1963 or '64]. Donated to Puget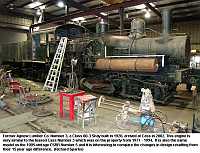 Sound Historical Society and shipped to Snoqualmie, Wash., 5-20-69; purchased by R. Simpson, B. Cole and C. Martin in [?]-80; conveyed to Dick Simpson and a partner, [?]-90. Inspected by CSRR in 8-01 and a letter of intent subsequently issued; acquired for $40,000 during 10-02; moved by truck to Cass – arrived 4-23-02. Apparently, this engine's boiler is in superb shape; new cab, coal bunker and water tank are needed.

Notes on C/N 3142

1. Few West Coast loggers utilized coal for locomotive fuel. The Centralia operation was one of the rare exceptions.

2. The Shay apparently was the subject of Dick Simpson contacting the park after No. 3 was returned to Oregon, but the matter was dropped. Artie Barkley contacted Dick Simpson in 7-01 and found that C/N 3142 was still available; according to those who had inspected the Shay; it was well worth the $40,000 price.

3. A side agenda for the trip to the West was to look at parts for Shay No. 11, the 8-01 inspection involved Artie Barkley (Shop Foreman), Billy Thomas (CSRR Superintendent) and Bob Beanblossom (District Administrator).

4. Tender and two of the trucks arrived at Cass a number of days prior to the engine.

5. Question remains: what number will be assigned to this Shay? Superintendent Billy Thomas spoke concerning the numbering matter on 5-6-02; he envisioned running a contest, "letting the people of West Virginia decide." Word about C/N 3142 retaining No. 3 circulated in late winter and early spring of 2002. Your compiler suggests that the No. 12 slot should be permanently retired based on the famed Cass logging era Shay; thus, the following slots are viable candidates: No. 3, No. 8 and 13 and above.

Shay No. 7 -- (Meadow River Lumber No. 7) – C/N 3131, 1920; Class 70-3 (originally built with wood cab, straight stack). Built for The Raine Lumber Co., Honeydew (Fayette County) as No. 3; for start-up of the company's operation at Clover Lick (Pocahontas County), relocated in 1923; sent to Duo (Greenbrier County) for Raine Lumber & Coal's mine around 1930; sold to Meadow River Lumber Co., (Rainelle, Greenbrier County), 1944 as No. 7. Equipped by MR with steel all-weather cab and Radley & Hunter stack; entered service in 1947; relegated to standby status with the arrival of diesel-electric switchers, 2-57; officially retired in 10-64 – the last active logging Shay in West Virginia;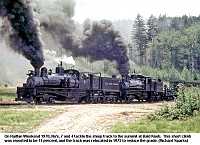 acquired as CSRR's first power addition; moved in steam, 12-64; entered service in 5-65; off-line power to/at the Mountain State Forest Festival (Elkins), 1965-67, and Strawberry Festival (Buckhannon), 6-67. Became the regular Bald Knob power with the reopening of the rails to the top, 5-68. Lost Radley & Hunter to diamond stack, 4-70; sidelined with a pitted front boiler course, 11-70; repairs should have been completed for operation in 5-73, but the replacement part by a Chattanooga boiler firm did not fit (legal entanglement ensued); another unsuccessful attempt at rolling a new front boiler course (by [Trojan Steel, Charleston] failed in either 1974 or 1975; current status is recoverable but in poor condition.

Notes on Shay No. 7

1. Raine Lumber was managed by Joe Raine, son of Thomas Raine (one of the founders of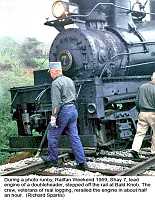 Raine-Andrews Lumber at Evenwood, Randolph County and Meadow River Lumber Co. at Rainelle). The first operating venue was at Honeydew, located on the Loop & Lookout R.R. (operated by the Sewell Valley R.R.), 7.5 miles below Rainelle on Meadow River. This operation began in 1916; a total of 4,000 acres on Laurel, Glade and Mann's creeks were cut over a 6-year period. With this operation's closure, C/N 3131 apparently sat dormant at Honeydew until the A.O. Neill & Co. operation at Clover Lick was acquired. When that job ended, Joe Raine apparently moved the Shay to his Duo mining operation until selling the engine to Meadow River Lumber.
2. Retirement date has been cited as 10-64, but a 9-63 photo shows her dead at Rainelle with unlettered tender and front plate removed.
3. The State bought C/N 3131 for $25,000.
4. Test run on the mountain by Clyde Galford on 12-10-64; also run in 3-65 (another test), for the 5-65 Railfan Weekend and once during the 1965 operating season (in either July or August).
5. CSRR senior engineer Clyde Galford is said to have disliked her (bias towards a new arrival when No. 1 could have been repaired?), thus No. 7 was mostly run by Leonard Long until Galford's death.
6. Reflued and equipped with new Radley & Hunter-type stack during 1966; No. 7 did some regular work during the fall of 1966.
7. With the opening of excursion service to Bald Knob in 5-68, "Doc" Carlson became regular engineer (newly arrived former hogger for the Middle Fork R.R.); he continued on No. 7 (with the Kermit Foe as fireman) until she was sidelined.

8. Leading Shay 4, she derailed at the old Bald Knob archway during a photo runby Railfan Weekend, 5-69. Because of the dense fog, those in the photo line missed the minor drama – the aftermath found the fireman's side front wheels hugging inside of the wrong rail. Retracking was accomplished within a half hour.

9. The Radley & Hunter stack remained on the shop floor after its 4-70 replacement with a new diamond stack; it was recovered from the fire ruins and still remains atop ex-MRL flatcar B-23, now on the river dead line.

10. The problem that ended No. 7's service, the front course of the boiler – eaten up with deep pits – is cited by former CSRR engineer Ted Burdette as being caused by "bad water at Rainelle." A new section needed to be rolled. The first replacement lacked 6 inches from coming together at the top; this was only one of the problems.

11. With plans for repair indefinitely postponed, the new welded water tank intended for No. 7 was installed at Whittaker Run in [?]-7[?]; it has since rusted out.


Climax No. 9 -- (Middle Fork No. 6) – S/N 1551, 1919; Class 70-3. Built by Climax Locomotive Works (Corry, Pa.) for the lumbering enterprise Moore-Keppel & Co., Ellamore (Randolph County); subsequent to the mill's 1-46 closure, served as standby power for the coal-hauling Middle Fork R.R. – never relettered. Probably the last Climax to operate commercially in the U.S., retired in [?]-[60]; already in badly rusted, ragged shape when bought by Robert L. Johnson for his proposed Whistles in the Woods Museum at Ellamore, [11]-69; sold to DNR, [10]-70 – trucked from Ellamore via lowboy; restoration for a projected 5-73 service debut was about "20% complete" when the shop fire occurred (7-72) – that devastating event led to indefinately postponing work; the water tank built in anticipation of service was placed at Oats Run, [?]-7[1]. A replacement boiler was acquired from the Ladysmith Historical Society, Victoria, British Columbia, 9-91; interest in funding repairs was expressed by MSRLHA, 5-98; after removal of boiler, placed inside the new restoration shop in [10]-02.

Notes on Climax No. 9

1. As Moore-Keppel's big engine, she was originally used on the 17.5 mile transfer run between Ellamore and Lindale (Sugar Run Junction); re-geared around 1930 for work in the woods operation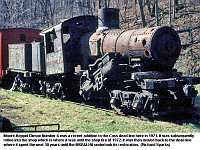 on the Right Fork of the Middle Fork River.
2. Middle Fork R.R. was chartered by the lumber company to operate 13 miles of track between the B&O interchange at Midvale and Three Forks Coal Co.'s mine at Cassity in [?]-30. Ownership of the railroad eventually fell to Harry McMullan of Washington, N.C. In an extant 1966 letter, McMullan expressed interest in selling the Climax to CSRR.
3. Climax S/N 1551 was inspected by Cass and an option-to-buy agreement made sometime in 1966; this option expired and was not renewed. She was subsequently acquired by Robert L. Johnson of Rossville, Ga. In 10-69, Johnson officially announced plans to open "Whistles in the Woods: The Steam Engine Museum" for mid-1970; the venture's debut never transpired.
4. Designating S/N 1551 as CSRR No. 9 commemorates the Cass logging era's only Climax. B-40 Climax S/N 534 – originally No. 6 but changed to No. 9 (front number plate turned upside-down) when Shay 6 was acquired in 1914.
5. In terms of power, "Doc" Carlson (CSRR engineer who formerly ran her at Ellamore) claimed the Climax would equal or surpass Shay No. 4.
6. Prior to the shop fire, the park administration was so optimistic about completing No. 9 "around about 3-73" that it was touting a 10th anniversary special for 5-73 powered by Shay, Heisler and Climax.
7. A 3-86 printed reference (citing a park official) claimed cosmetic restoration plans ("and may eventually be operated").
8. The Climax boiler acquired at a cost of $15,000 was a real find – especially in light of British Columbia's strict construction standards and, except for hydro test (certification), never having been operated above 125-pound pressure. This boiler for a 70-ton Climax was manufactured for the timbering enterprise Blodell, Stuart and Welch, but was never conveyed as the result of BS&W going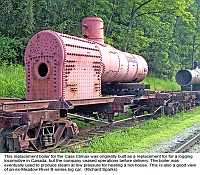 out of business. It was eventually sold by the boiler manufacturer to a produce grower and used as a hot house steam source. After being discovered by a railfan, it was donated to the Ladysmith Historical Society, Ladysmith, B.C. – whose directors parlayed the value for pertinent museum projects.

9. Hydro testing occurred in 1994; only a couple of leaking tubes were found. Around the time of the hydro test, the shop crew estimated that (if other priorities did not arise), she could have been in service in "a year and a half."

10. Plenty can be said about the MSRLHA-sponsored restoration project (visit the restoration shop or web page). When restoration is completed, Cass will have a better-than-new locomotive and will share the status of having operating examples of all three major geared steam locomotive types with the Mount Rainer Scenic Railroad in the State of Washington.


Shay No. 10 -- (Brimstone No. 36) – C/N 2804, 1916; Class 70-3. Built as a wood-burner (Radley & Hunter stack) for W.M. Carney Mill Co., Atmore, Ala. as No. 5; found to be too slow for Carney's purposes, thus returned to Lima, 12-16; converted by the factory into a coal-burner (taper stack) and sold to W.M. Ritter Lumber Co. as its No. 1 [by 5-17]. First operated under Ritter ownership by wholly-owned subsidiary Raleigh Lumber Co. at Fitzpatrick, Raleigh County; transferred to Ritter's job at nearby Oxley (now Beaver), Raleigh County, 19[2?]; then to Maben, Wyoming County, [?]-2[?]; hence sent to the Ritter operation at New River, Scott County, Tenn., 10-45 as common-carrier subsidiary Brimstone R.R. No. 36. Rail-logging and lumber transportation was waning – the Shay also pulled coal; subsequent to the mill's [?]-4[9] closure, service was exclusively related to coal. The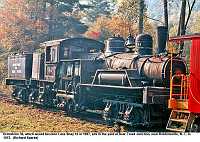 Brimstone was formally abandoned by Ritter successor Georgia-Pacific on 4-30-65; operation was leased by Scott Coal Co. until ICC approval of the Brimstone & New River Ry., which began in 7-65. Last operated in 10-65 (condemned by ICC inspector for worn flanges); the railroad became property of Southern Railway System in 4-66. New River Ry., a minor subsidiary, was controlled by the Southern Railway System's CNO&TP. Engine was loaned to the Tennessee Valley Railroad Museum (Chattanooga), [?]-67. After years of benign neglect by TVRM, loaned to Bear Creek Junction (Robbinsville, N.C.) for restoration and return to service, [7]-7[3]; after BCJ folded, faced scrapping at Robbinsville; acquired for $4,000 by Indiana Shay fan George Kadelak, 3-87. A lease deal with the State of W.Va. for repair and operation was arranged; trucked to Cass at Kadelak's expense, [?]-87; for a time in 1990, there were plans for an overhaul during the 1990-91 off-season (this did not transpire). Purchased by the State, 4-94; has sat on the yard dead line since 5-93; the boiler is sound, but she needs considerable, expensive work prior to service.

Notes on Shay No. 10

1. Relating to first owner, W.M. Ritter Lumber Co., William McClelland Ritter was a Pennsylvania native who entered the lumber business in Mercer Co., W.Va. He began buying into Raleigh Lumber Co. in 1903 and eventually gained control and became president. The Columbus, Ohio-based Ritter organization absorbed Raleigh Lumber in 1907. W.M. Ritter begs not to be confused with the C.L. Ritter Lumber Co. of Huntington , W.Va.

2. Numerous claims that C/N 2804 spent a number of years in operation as a narrow gauge Shay are incorrect. W.M. Ritter's Maben woods rail-operation was 36" gauge, but old-timers say this large engine was never used on the narrow gauge Winding Gulf R.R., but ran north out of Maben on the Virginian R.R. (trackage rights agreement) to narrow gauge log reload connections. A photo of C/N 2804 in service at the Maben operation appears in "Memories and Photos of Mullens, West Virginia" by Jack Feller – she wears a taper (straight) stack and spark arrestor.

3. This was the Maben job's second locomotive rostered as No. 1. Ritter's operation at Maben was winding down when the company sent C/N 2804 to New River, Tenn. (the Maben mill closed in 4-46).

4. In 5-42, W.M. Ritter formed the common-carrier Brimstone Railroad – this was just shy of three years before C/N 2804's arrival. The New River job was begun by Thomas Hall Lumber Co. in 1920; Ritter picked it up in 1926 after TH Lbr Co. went bankrupt.

5. The lease terms with George Kadelak called for full rehabilitation within five years. An out-right purchase agreement was eventually formed.

6. Those who see little draw in restoring the Shay because of her size are offset by the sentiments of those familiar with the specs which show her with a rated drawbar pull of 70 tons on a 10% grade, vs. 61 tons for No. 4.

Disposed of Steam Power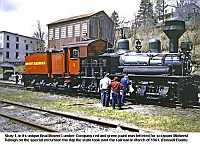 Shay No. 1 -- (Mower Lumber No. 1) C/N 1519, 1905; Class 65-3. Built for G.W. Huntley Lumber Co., Ronceverte (Greenbrier Co.) as No. [1]; likely moved contract logs from various cuttings on Anthony's Creek and ran over the Iron Mountain & Greenbrier to White Sulphur Springs; acquired by West Virginia Pulp & Paper Co., Cass, in 1915 – rostered as the second No. 1; served out of Spruce, camps on Cheat River and then Slaty Fork, Cheat Bridge (for Glade Run) and Beaver Creek; became Mower Lumber No. 1, 6-42; based at Cass after about 1944. Pilots equipped with snowplow blades, [11]-5[0]; one of the two regular daily log train engines until the cutback to one loadout and woods crew. Received notable paint job (Chinese red cab, coal bunker and tender with dark green boiler jacket and domes) sometime in 1957; came "close to blowing up" due to a watchman's neglect while in service behind the mill as a steam source after heavy snowfall, [2]-59; sold for scrap to Midwest Raleigh, Inc., 9-60; known to have worked briefly during the scrapper's salvaging operation (moved steel from off the mountain in 12-60). Conveyed by Midwest Steel Corp., 8-62; served when needed as excursion train pusher engine in 6-63 and early 7-63 – otherwise displayed on weekends (on the C&O house track at Cass); filled in as road engine during No. 4's July axle repair; may have briefly reappeared as weekend pusher, but was soon rendered out-of-service by an ICC inspector (worn flanges, 9-63); received sporadic attention in the shop – including new smokebox; at one point, there was hope to get her out for the 1967 season; moved outside in red lead paint to the upper shop lead track and tarped, 11-69; relegated to the yard dead line track, [5]-7[4]. After the trade deal for B&O Railroad Museum's WMRy No. 6 was sealed, cosmetic restoration occurred (snowplow blades replaced with conventional footboards and pilot, painted black, lettered Greenbrier, Cheat & Elk); shipped on flatcars (via Durbin), 5-81; placed into the museum's primary display.
Notes on Shay No. 1
1. Recent findings dispute a story thought settled more than 30 years ago through Kyle Neighbor's research. The formerly accepted story is this locomotive was built for G.W. Huntley Lumber Co., Ronceverte (Greenbrier County), sold later in 1905 to Flint, Erving & Stoner Lumber Co., Thornwood (a.k.a Dunlevie), Pocahontas County. Acquired by North Fork Lumber Co., Nottingham (Pocahontas County) in 1915, then later that year traded to Cass for Class B Shay No. 1. [Huntley's location has also been cited as Neola and White Sulphur Springs.] Roster authority Tom Lawson found information that casts doubt on operation by Flint , Erving & Stoner and North Fork Lumber. Bill McNeel's efforts to establish connections between C/N 1519 and the two ownerships concur that she may very well have remained in Greenbrier County until 1915.
G.W. Huntley's contracting relationship with St. Lawrence Boom & Lumber is the apparent root of its Ronceverte address – the Shay never operated there. In terms of piecing together Huntley's timbering, the company acquired small, scattered white pine tracts (for example – four in 1905, between 100 and 172 acres each), sold them to StLB&L Co. and performed contract timbering. Possibly, C/N 1519 is the "big Shay" cited as owned by the Iron Mountain & Greenbrier R.R. A log train ran down the line to the C&O interchange at White Sulphur Springs with 10-to-15 cars daily for the Ronceverte mill until 1909, when StLB&L Co.'s bandsaw mill on the IM&G RR opened. Huntley may have bought the Shay for eventual use around Neola, but apparently didn't make it to the North Fork of Anthony's Creek until 1915. (Previous to Huntley, the Neola bandsaw mill was operated by Neola Lumber Co.)
It is not possible for the Shay to have come to North Fork from Flint, Erving & Stoner in 1915. FE&S changed its name to Thornwood Lumber Co. in 12-10; then went bankrupt. The property was bought at auction in 9-13 and subsequently run as Thorny Creek Lumber Co.
Complicating things are two findings: 1) Clyde Galford noted that Cass fireman, Jack Haley, claimed his leg was cut off by No. 1 when he worked at Dunlevie (Thornwood). 2) There is an oral history account that C/N 1519 indeed operated at North Fork Lumber and was traded for GC&E's No. 1 – the reason NFLbr Co. got rid of her had to do with light trestles located on the mainline.
Until assured that North Fork Lumber is not involved in the story, the rest of the sketch: company was formed in 6-15 to run the mill and logging operation formerly owned by Virginia Lumber. Interchange with the C&O was at Boyer Siding (MP 92+ on the C&O Greenbrier Subdivision); original operator M.P. Bock Lumber was followed by Brushy Run Lumber. Track was owned by the Pocahontas R.R. from 1901 until 1930.
A view mistakenly identified as C/N 1519 working for FE&S (straight-stacked, steel factory cab, wearing a No. 5 front plate, but with no ownership or number lettering) appeared in MSRLHA's 1988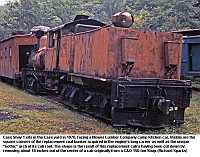 calendar. The pictured Shay is C/N 1751 – Thornwood Lumber No. 5, former FE&S No. 2.
2. Steel cab installation date was probably by 1924. Recent confirmation of a C&O Class 150-4 steel cab structure as the basic ingredient for Shay No. 5's upgrade may apply here (with roof similarly sliced in the middle and sundry revisions to windows, etc.).
3. Installation of pilot snow blades came in response to Mower suffering wintertime consequences of building uphill from Old Spruce and rail-logging the ridges beginning in 1950. In worst conditions, No. 1 was used above Old Spruce for "busting the road open" ahead of the log train. Clark Phillips (woods foreman) always ran the "snow engine" as needed until he fell ill and left the company in 1-57.
4. Reportedly, she was normally assigned as road engine during winter months [beginning in 11-58?].
5. No exact date for the red and green paint job, but No. 1 is wearing the scheme (with grime) in 10-57 – the earliest known photo. Documented by a photo taken during the summer of 1954, No. 1 sported what Wally Johnson describes as barn red. Many are astonished to learn how No. 1 came to be adorned in its unusual color scheme (red cab, bunker and tender and green boiler jacket and domes). In a nutshell, "times were tight" (rail-logging cutbacks coinciding with feuding among the Mower family after F. Edwin Mower's death). The locomotive was in need of paint but black was not on hand. Many a Cass visitor has assumed it was a scenic railroad gimmick for visitor appeal. She was given a new coat of Mower red and green prior to the opening season.
6. Prior to the state legislature's Joint Committee on Government and Finance visit (10-23-60), with Mower Lumber lettering blocked off in white, she was crudely dressed-up with white side trim, cab step sides, top hand railing, smokebox rim, smokebox latches, ends of pilots and poling pockets. For the 4-61 visit by Governor W.W. Barron, state delegates and senators and the media, No. 1 wore lettering "Midwest Raleigh R.R." For the 5-61 excursion run for C.P. Huntington Chapter (NRHS), received yellow lettering for "Cass, Greenbrier, Cheat & Bald Knob Scenic Railroad"; this was replaced by "Cass Scenic Railroad" (also yellow, with strange curlicues) in 6-63.
7. No. 1's front plate walked-off sometime after 7-59 (last known photo with plate); outfitted with metal disk (hand-painted 1 in yellow) prior to the 5-61 NRHS excursion. A new plate (1 in the center and "Cass" and "Railroad" in the circle) was donated – Carlton McKinney, officer of NRHS's Old Dominion Chapter, arranged for casting by a foundry in Richmond (one was also made for No. 4). The motive was to assist CSRR, plus enhance the engines for photos during Old Dominion charters.
8. A printed reference to No. 1 cites pusher service in 1964. This is believed to be erroneous due to the failed ICC inspection.
9. Had No. 7 not been acquired, it is quite possible that No. 1 would have enjoyed a much different future – operation. With No. 7 to reinforce the power pool, priorities focused funds and manpower elsewhere. When the two West Coast Shays arrived, a bleak future became bleaker.
10. No. 1's bell was placed on No. 5 prior to that vintage gem's entering service on the CSRR.
11. Trucks received from Meadow River Lumber as part of the Heisler No. 6 deal – off MRL Shay No. 3 – were installed in [?]-6[7]. Max Robin pointed out these taller trucks made her look like she was "standing on tippy toes."
12. Date of shipment to Baltimore, originally cited as 1-81 (Rosters 1 through 3), was queried by Grady Smith, who saw No. 1 at Elkins on his way home from Railfan Weekend in 5-81. Subsequently, a dated slide by Richard Sparks was found – the Shay and Porter 0-4-0 loaded on flatcars sit on the Cass mainline during the first week of May, 1981.
Shay No. 3 -- (Mount Emily Lumber No. 1) – C/N 3233, 1923; Class 80-3. Built as an oil-burner for Lima's West Coast dealer, Hofius Steel & Equipment Co. (Seattle); bought by Independence Logging Co., Independence, Wash. as No. 1, [date unknown]; acquired by Mount Emily Lumber Co., LaGrande (Union County), Ore., [?]-2[8] (retained No. 1); retired when rail-logging ceased, [?]-55; donated to Oregon Museum of Science & Industry, [?]-[60]; moved to Portland and stored in the Union Pacific roundhouse for three years, then towed (sans line shafts) to the Portland yard; cosmetically maintained by volunteers of the Pacific Northwest Chapter, National Railway Historical Society.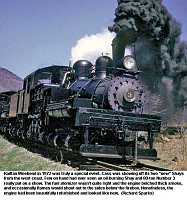 Acquired by the Oregon Historical Society, [?]-[70]. A 20-year lease agreement to operate at Cass was established in [?]-70; arrived in 1-71; entered service, 5-72 – the last locomotive overhauled in the old shop (and the second major repair in the CSRR era) before the shop burned; timing of a return to the shop for minor repair turned out to be a setback for further operation. The Shay was dramatically rescued but not without damage; returned to service, 5-74; primarily used as the Whittaker train engine; a purchase opportunity in 198[9] was missed during a period of State budget austerity. Stored serviceable after the 1992 season (the lease ended on 1-1-93); returned to Oregon on flatcars via the Spruce Connection, 5-94; periodic excursion service under lease agreement with the City of Prineville R.R. (Prineville, Oregon) since [6]-9[6].

Notes on Shay No. 3 (On CSRR from 1972-1994)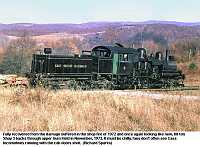 1. Mt. Emily's logging railroad was 40 miles long; the mainline ruling grade was 7.5%.
2. Some of the dates above are suspect. City of Prineville R.R.'s website claims donation to the Oregon Museum of Science & Technology in the late '50s, transferred to Oregon Historical Society in the late '50s.
3. Shay authority Jack Holst, of Portland , suggested – and was instrumental in working out – the lease transaction between the West Virginia and the Oregon Historical Society (OHS).
4. The shop fire rescue in brief: Shay No. 4, with Park Superintendent Jim Reep at throttle, hooked to two Meadow River B-series skeleton log cars, rammed the doors and successfully coupled to the Shay. Gauges, glass, bell were melted (wood parts destroyed – obviously).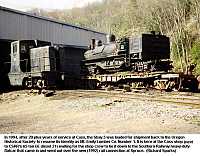 5. Some major shopping, including [crankshafts] occurred in 198[?]; she was reflued in 1992.
6. This was the only CSRR geared engine ever equipped with a roof-mounted radio antenna.
7. The 20-year lease expired in 1-93, but shipment was delayed until after the spring thaw in 1994. The locomotive was stored serviceable after the 1992 season with plans for an "as soon as possible" return. OHS questioned the need for the delay and filed suit in 8-93. The state had made previously repeated attempts to arrange shipment during the summer and fall of 1993; but the OHS failed to provide instructions until after CSRR was shut down for the season.
8. Board attorney and railfan Martin Hansen was asked to find a new home for C/N 3233 by OHS directors. A 10-year lease by the City of Prineville R.R. began in 11-93. Besides the tardy return, the historical group complained about the purported condition as she arrived in Prineville. There was a claim of mechanical problems and the State was sued for repair costs. The lease stipulated a return in "working condition"; Cass felt mechanical problems encountered by COPRR amounted to normal maintenance on a 70-year-old Shay stored for months and then shipped across the country on a flatcar. A motion of dismissal for the lawsuit was eventually signed by all parties.
9. For shipping aboard an 8-axle heavy-duty flatcar, C/N 3233 was loaded via a temporary pit dug on the old C&O main near the Cass station. Due to clearance restrictions, the cab was removed by the Cass crew and placed on another flatcar which also carried the tender. Shays No. 2 and 5 provided power for this movement to CSX at Spruce. The cab was reattached in Cumberland, Md.
10. City of Prineville's original plans were to run six excursions per year, including two fund-raisers for Oregon Historical Society. When not in service, C/N 3233 reposes in a modern shop. She has attended a recent Sacramento Railfest during which the locomotive raced (and lost to) North Carolina Transportation Museum's ex-Graham County Shay No. 1925 in time trials.
Porter 0-4-0T No. 714 -- (St. Elizabeth's No. 4) – C/N 8234, 4-50; 50-ton saddletank switcher, 16x24 cylinders, 44" drivers. The last "fired" steam locomotive out-shopped by H.K. Porter Company (Pittsburgh); built for the U.S. Federal Security Agency and assigned to St. Elizabeth's Hospital,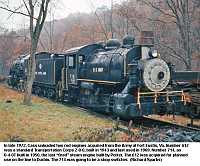 Washington, D.C., shifting the heating plant's steam coal). Transferred to inventory of the U.S. Department of Health, Education and Welfare, 1958; supplanted at St. Elizabeth's by a diesel-electric, soon thereafter transferred to the Department of Defense in [?]-66; assigned to the 714th Transportation Battalion (Ry Op), Fort Eustis, Va., [?]-67 – [operated at least a few times]. Acquired for Cass government surplus; arrived in 10-72. Never in steam before being shipped to Baltimore as part of the trade for Western Maryland Shay No. 6; cosmetically restored and shipped with Shay No. 1, 5-81. Repair and operation were later undertaken by the B&O Railroad Museum.

Notes on Porter 0-4-0T No. 714

1. This wheel arrangement designation was common among industrial car-shifting operations – the "T" denotes a tank model, in this case with water compartment (tank) slung over the boiler and a small fuel bunker on the rear of the cab.

2. H.K. Porter had not produced fired steam railroad locomotives for years (it remained in the "fireless cooker" business); this was considered a special arrangement on behalf of the Federal Government. St. Elizabeth's No. 4 was captured on film by numerous D.C.-area railfans. The line was rather short, but included a steep grade.

3. She arrived at Cass in reasonably good shape and could have made a nice shop switcher; but with the GE 45-tonner's acquisition, was considered excess.

4. In cosmetic restoration prior to shipment, stenciling was for St. Elizabeth Hospital instead of St. Elizabeth's.

Ex-Premar Coal Co. Shay -- (Number Unknown, Former Mower No. 6) – C/N 1907, 1907; Class 65-3. Built for the Lewisburg & Ronceverte R.R. (Ronceverte, Greenbrier Co.) as that road's No. 1; after electrification sold to West Virginia Pulp & Paper Co., Cass in 1914 as No. 6 (2nd); conveyed to Mower Lumber, 6-42. With boiler side sheets getting bad, retired and offered for sale, [?]-46; bought by Preston County Coal Co., 4-47 – originally used at Monitor No. 1 Mine, West End (Preston Co.). Preston County Coal fell under ownership of the Borgman brothers' Premar Coal Co. Moved to Monitor No. 4, near Austen (Preston Co.), [?]-5[?]; in service until the mine's closure, [10]-6[0]; fired up and moved outside the enginehouse once in [?]-63. Damaged by enginehouse roof collapse, [2]-6[4]; eventually offered for sale ($1,000). Inspected by CSRR and Bear Creek Junction (Robbinsville, N.C.), but declined (too costly to retrieve and engine's poor condition). Plans called for her to be cut up during the summer of 1969 (with parts going to Bear Creek Junction). Acquired by Parkersburg railfan, Dave Corbitt, [?]-7[4]; track was marginally rebuilt between storage site and former B&O interchange at 83 Fill (about a mile distant) beginning in [10]-75. By the time bad weather set in (12-75), Corbitt and volunteer crew had moved the engine to the former interchange track – jacked up with trucks removed, in anticipation of a springtime move via lowboy tractor-trailer for cosmetic restoration at the West Virginia Northern shop at Kingwood (Preston Co.). Locomotive was all but destroyed by a B&O train derailment, 4-76. Sold to the State in [?]-78; shipped in gondolas gratis by Chessie System just prior to the Greenbrier SD's closure, [6]-78; scrapped in [?]-80; cylinders and trucks sit atop ex-Meadow River cars B-2 and B-5 on the river dead line.

Notes on Ex-Premar Coal Co. Shay

1. Upon being acquired by West Virginia Pulp & Paper, C/N 1907 was apparently assigned to the Elk River Division; involved in a runaway on the Left Fork of Leatherwood Creek (Webster County), 192[2]. She was based in the woods [and/or at Slaty Fork] in the 1930s – working log trains and running coal from the Baldwin mines. Regular engineers were Pat Bradley and Claude Wilcox.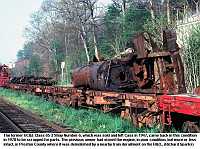 2. For Mower, Clyde Galford was one of her engineers; he claimed that if the company had invested little money (primarily the boiler side sheet work), C/N 1907 would have been a better engine than Birch Valley Lumber No. 5 (Mower No. 4).

3. Borgman is found erroneously in print spelled as Borgmann and Borgmon.

4. Premar's breakdown maintenance approach equated to the old gal being in very ragged shape. In either July or August 1960, with wooden plugs in the water tank to offset rusted-through spots, she "looked like a porcupine" – in the words of Clyde Galford, who visited Premar looking for work after Cass rail-logging closed out.

5. The locomotive bell mounted on W.Va. Secretary of State Ken Hechler's Little Red Jeep" was reportedly off C/N 1907. Hechler last served in public office in January 2001

6. Along with rail, mining machinery, cars, etc., the locomotive was reportedly sold for scrap by the Borgman brothers in the fall of 1968.

7. Dave Corbitt discovered C/N 1907 in 1972 and immediately set out to acquire her; purchase was finalized in either 1973 or 1974.

8. Corbitt received $5,500 for C/N 1907 and threw in a cache of Shay parts acquired from the ex-Premar Coal Co. shop at West End in 1973. Items included new pinion gears and crown gears in their original shipping crates; also there were injectors and lubricators.


Baldwin 2-8-0 Rod Locomotive No. 612 -- (Fort Eustis No. 612) – C/N 69858, 1943; 2-8-0 Consolidation type, 80½ tons (engine weight), 19x26 cylinders, 57" drivers – a member of the largest-ever single steam locomotive class; built by Baldwin's Eddystone Plant (Philadelphia) for the U.S. Army Transportation Corp; originally as No. 2630; although it is known that she never served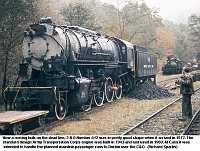 overseas (like so many G.I. 2-8-0s), determining site of original operation is unlikely; assigned to the 714th Transportation Battalion (Ry Op), Fort Eustis, Va., 1952 as USA No. 612; operated to/at Hill Air Force Base (near Ogden, Utah) in conjunction with the Golden Spike Centennial at nearby Golden Spike National Historical Site (Promontory, Utah), 6-69; reported as excess to U.S. Army Mobility Command, 5-71; still in service on the Fort Eustis Utility Rail System, 2-72. Declared excess, 5-72; released to General Services Administration for disposal (via U.S. Department of Health, Education and Welfare's Surplus Property Utilization office), [7]-72; acquired by the State of W.Va., arrived on flatcars, 9-72; rigid wheel base with maximum curve radius of 25 degrees precluded service before the West Virginia Rail Maintenance Authority (RMA), later known as the West Virginia Railroad Authority, took over the former C&O Greenbrier subdivision.; repair funds for operation were appropriated in 1985 but – as the result of flood damaged trackage which ended the run – this work never commenced. Engine was sold to Steam Services of America in 03-11 and moved to Sylva, NC, to be restored to operating conditions . [JB 1/12]

Notes on Baldwin 2-8-0 No. 612

1. Fort Eustis' hosting of special operating events brought C/N 69858 into contact with many railfans during the 1960s and early 1970s.

2. The lettering "Johnny D. Burruss" under the engineer's window was likely applied for the Hill A.F.B. engagement related to the Golden Spike Centennial.

3. Last hydro test stenciling was for 22 Oct. 1970.

4. Originally selected for transfer to Cass was Fort Eustis No. 609, but the U.S. Army Transportation Museum decided to keep her; thus No. 612 was sent to Cass.

5. In 1/12 the

president of

Steam Services of America stated that boiler and running gears were good and that a full restoration is their goal. [JB 1/12]



Inactive/Infrequently-Used Diesel Power

As for diesel-related notation, Tom Lawson states that most "roster fans" use C/N with their data, but at least in regards to General Electric locomotives, builder's plates cite serial number, not construction number.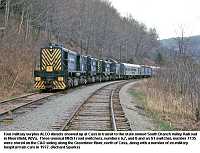 shop switcher use until the GE 45-tonner arrived. S-1 was inter-agency transferred to the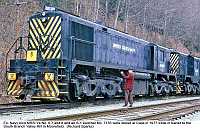 West Virginia Rail Maintenance Authority (the RMA, later named West Virginia Railroad Authority) – moved to Durbin by Shay No. 5, [10]-78; two of the three MRS-1s returned from SBVRR in 10-85 (see information following).
Notes on Alco S-1
1. Built by Alco/GE for the U.S. Army in 2-43; entered service at Fort Dix, N.J. as USA No. 7135. Transferred to U.S. Navy – 65-00536 – for use at Colts Neck Naval Ammunition Depot, date unknown.
2. There were plans to send this unit to Cass in 10-85, but pitted axles prohibited interchange with Chessie System. SBVRR Superintendent Terry Gaynor said this briefly won his campaign to keep the unit on the premises at least for display – after all, it was the line's first power. Then an opportunity to sell the S-1 transpired: George Hockaday, a New York excursion train operator, sent a crew to Moorefield to polish the axles; thus, it was shipped out with Chessie System's blessings.

Alco/GE MRS-1 No. 26 -- C/N, 31660 (GE), 80421 (Alco) 4-53; 1600-hp, 6-axle road switcher, m.u.-equipped. Built by General Electric and Alco (assembled at Schenectady, N.Y.) for U.S. Army Transportation Corps – rostered as B-2105. To U.S. Navy [date unknown] – rostered as 65-00587; to Colts Neck Naval Ammunition Depot, [date unknown] as Colts Neck No. 6. Declared excess and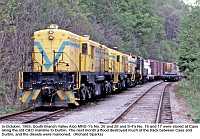 acquired by DNR, [7]-76, brought to Cass (along with three other MRS-1s and an Alco S-1), 7-76; transferred to RMA and shipped to SBVRR, [10]-78 . Served as SBV No. 26; spent several months at GE's Apparatus Shop [near Pittsburgh] for upgrades, returned from GE in SBV's yellow paint scheme, 4-79. Massive 6-wheel trucks experienced difficulty on the light track system; returned to Cass, 10-85. Trapped at Cass by flood 11-85; served as the shop switcher during 1989-90's off-season before rail damage forced removal from service; stored in deteriorating condition on the river dead line.

Alco/GE MRS-1 No. 28 -- C/N, 31664 (GE), 80425 (Alco) 4-53. Same as above except originally USA B-2109, then USN 65-00589, then Colts Neck No. 8, then SBVRR No. 28; never operated at Cass.
Notes on Alco/GE MRS-1s
1. Sources indicate that GE bid on the original MRS-1 specification in 1952-53. GE and GM (EMD) built samples and GE won the large order.
2. The three units acquired in 1976 fell under the DNR's auspices in advance of the RMA being created. They were not intended for operation at Cass, thus are not included in the roster for the period 1976-78. The third unit was scrapped for parts by SBVRR in 1980.
3. Powered by Alco 244F V-12 4-cycle diesel motors, with six traction motors. The cost for upgrades for SBVRR No. 26 and No. 28 by GE's Apparatus Shop is cited as $268,000, but it is uncertain whether this for one or both of the units.
4. Several visitors to the SBVRR have been confused by a fourth MSR-1 on the property beginning in 1979; this was acquired directly by the RMA (last served at New Cumberland Army Depot) and has no relationship with Cass.


GE 65-tonner No. 21 -- [C/N unknown], [?]-43, 400-hp. Built by General Electric at Schenectady , N.Y. for the U.S. Navy. Acquired as surplus by RMA, [?]-78, but shipped directly from a Naval installation to the Wilmington & Western (Marshalltown, Del.); finally arrived on the SBVRR, [5]-84; sent to Cass as part of the 10-85 equipment movement; as it arrived, wore No. 34 (part of original USN seven-digit number) Used as the shop goat for 10 years before a major breakdown; returned to service in 5-97; received its blue and silver paint scheme with handrail striping in 8-97 (creating the nickname "The Circus Engine").
Notes on GE 65-tonner No. 21
1. The unit was assembled in Alco's Schenectady (N.Y.) plant, but this is actually one of many General Electric/Alco collaborative efforts. Previous rosters cite unit as 600 h.p. Jim Robinson notes these units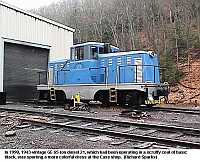 were 400 h.p. – provided by two 200 h.p. Caterpillar prime movers. There is no record of this locomotive ever having undergone an upgrade.
2. Previous rosters cited lease by Black River & Western. Jim Robinson sets us straight: BR&W did have a GE 65-tonner (USATC No. 7079) in the 1970s. Rich Adam adds that confusion may have originated in this twin being switched prior to disposition.
3. The arrangement with Wilmington & Western was a lease deal discovered during an audit of the SBVRR by the Commission in Special Investigations for the Legislature. In a nutshell, the "missing" unit brought trouble – the deal had been made in Charleston – except for SBVRR's general manager, no one on the railroad knew the unit was supposed to be onsite.
4. For a period [winter 1995 is included], there was a plan to transfer ownership of this unit to South Branch Valley; part of the deal was SBVRR sending mechanical support to return No. 20 (the 45-tonner) to service. Instead, this unit underwent repair in the car shop with assistance of a Huttonsville Correctional Center inmate with relevant skills.
Alco S4 Nos. 16-17 -- C/N 81321-81322, both built in 5-55; 1000-hp units by Alco/GE (assembled at Schenectady, N.Y.) as Baltimore & Ohio Nos. 469-470 – m.u.-equipped; later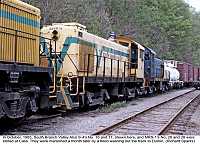 renumbered 9009-9010. One source claims these units (plus unrelated-to-Cass ex-B&O No. 9007), were the only Alcos ever to wear the Chessie System paint scheme. For some unknown reason, No. 9010 was repainted back to B&O blue; acquired by RMA for use on the SBVRR for $20,000 each, 3-79; No. 9009 became No. 16 and operated in the SBVRR paint scheme, while No. 9010 became No. 17 but retained B&O scheme and lettering. Upgraded by GE at the cost of $250,000 in [?]-8[?]; shipped to Cass as part of the 10-85 equipment movement. Trapped at Cass by flooding which destroyed the trackage to Durbin; never operated – now in deteriorating condition on the river dead line.
Notes on Alco S4s
One of the two units [?] was operational when shipped to Cass, the other had a water leak.
GE 45-tonner No. 20 -- "Little Henry" – C/N 13193, [?]-41; 300-hp side-rod. Built by Alco (Schenectady) for General Electric; delivered new to the U.S. Navy; service history is unknown except for last assignment – the Philadelphia Navy Yard; acquired as surplus by RMA, [7]-78 and shipped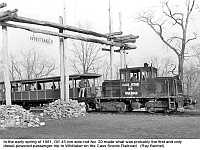 directly to Cass, 1-79; although there were plans to activate the ex-Navy S-1 for off-season switching (see above), this was actually the first CSRR shop goat, as well as the first diesel to be operated at Cass. Burned out traction motor[s] rendered the unit out-of-service, [?]-8[8]; rehabilitation and a return to service has been discussed (off and on since 1994).

Notes on GE 45-tonner

1. There are conflicting dates for arrival: Roster Version 2.0 cites 1979, a printed reference cites 1978.

2. Electrical cabinet rewired, traction motors and drive train work was done during the 1982-83 off-season.

3. Forays up the Greenbrier to Durbin for locomotive and car pickups and one trip pushing a flatcar of passengers to Whittaker in 05-81 have been Little Henry's most exotic assignments.

Disposed of Diesel Power

GM-EMD BL2 No. 7172 -- (Western Maryland No. 82) – C/N 5922, 10-48; 1500-hp diesel road switcher. Built by General Motor's Electro Motive Division – Frame Number E960-2 (LaGrange, Ill.) for the Western Maryland, as No. 82 (Class DF-15); originally used in road service (m.u.-equipped); renumbered to 7182 – and eventually became Chessie System No. 7172. Retired from the Hagerstown (Md.) hump in [?]-83; donated by Chessie System – picked up at Durbin by "Little Henry," 11-83; used on railfan charters along the Greenbrier during 1984; standby power for CSRR's regularly scheduled Greenbrier River excursions, 1984-85; after MRS-1 No. 27 proved hard on track, entered service as off-season shop goat beginning in [?]-8[9] – placed out-of-service after a breakdown; shipped to SBVRR via Spruce ([5]-9[2]); ownership transferred to SBVRR in [?]-95; returned to operating condition at Moorefield and run in the yard, but never saw road or work train service. For use on the new West Virginia Central, shipped from Moorefield to Belington, Barbour County, 10-98; repaired and placed into weekly freight service; pulled most excursions during 1999, the first season of Belington-to-Elkins runs; she is remembered as a true rust bucket, but the unit is now quite pretty with the body work, painting and accurate Western Maryland 1960s-era striping and lettering (No. 82) completed in 4-00. Powered New Tygart Flyer excursions in 2000 and 2001; remains in operation.

Notes on the EMD BL2

1. Western Maryland had two of these odd precursors to the GP7.

2. Additional technical information: 567B 16-cylinder, 2-cycle prime mover; 65:12 gear ratio later changed to 62:15.

3. Horn: Leslie single note (certainly not music to anyone's ears).

4. Both spent their final days linked with slugs working the Hagerstown (Md.) classification hump. This BL2 ended service in semi-permanent lash-up with slug No. 138T. Patrick H. and Patrick E. Staken's "Western Maryland Diesel Locomotives" points out that the set worked on the C&P Subdivision temporarily easing coal loads down from the mines near Mt. Savage.

5. More than a few individuals thought the move from Moorefield to Belington was rather ludicrous, doubting the success of any attempt to get her running again. Durbin & Greenbrier Valley's John Smith relied on volunteer mechanics; they made her purr.




Phil Bagdon, a long-time Cass Scenic R.R. enthusiast, began publishing this roster in 1998 with subsequent annual revisions. His interest in Cass extended back to a first visit in 1964. He formed early associations with long-time Cass residents W.E. Blackhurst and Ivan Clarkson and the dean of Cass history, Kyle J. "Catty" Neighbors. Newspaper summer jobs at the West Virginia Hillbilly and Webster Echo provided opportunities to uncover more information. While a student at West Virginia Tech, an in-depth Cass rail-logging book was begun with Neighbors. Following Kyle Neighbors' death in 1975, Cass native, Dr. Roy Clarkson came into the project. Phil worked at Cass as a train commentator in 1976, then dropped out of the project to pursue his career. (Dr. Clarkson saw "On Beyond Leatherbark – The Cass Saga," the definitive Cass history through to publication in 1990).

After a stint editing The MSR&LHA periodical, "The Log Train" in the early 1990s, Bagdon's Cass-related interests were rekindled. Phil served as Cass seasonal historian in 1996 and '97. Phil is the author of three books, "Shay Logging Locomotives At Cass, West Virginia, 1900-1960", "Meadow River Lumber Company – West Virginia's Last Logging Railroad", "Essential Cass: An Overview of Cass Scenic Railroad State Park," and numerous Cass-related articles. Born and raised in Alexandria, Virginia, he eventually moved to the colorful old C&O Ry division point town of Hinton, Summers County, W. Va., where he worked as a writer, editor and design consultant until his sudden death in 2003 at the age of 50.


Sources of information