THE ROBERT L. LONG PHOTO COLLECTION



Robert L. Long was a member of the West Jersey Chapter of the National Railway Historical Society. He donated a collection of 33 photos taken at various railroads in West Virginia in the mid-1960s to the Chapter. After Mr. Long's death the chapter donated the prints of the photos to MSR&LHA and the original negatives to the National Railway Historical Society's archives.

Click a link below to see photos from the collection. The captions at the bottom of each photo are from comments written on the back of the photos.

Click an image for a larger photo and caption. In a photo, click the right half to advance or the left half to back up. Left and right arrows can also be used to navigate. Press Esc to return to the thumbnails.



Buffalo Creek & Gauley Railroad

(Dundon, WV)


Cass Scenic Railroad

(Cass, WV)


Ely Thomas Lumber Company

(Fenwick, WV)


Middle Fork Railroad

(Ellamore, WV)


Georgia Pacific Company

(Swandale, WV)


Unnamed Railroad

(Tunnelton, WV)

The original negatives for the photos are in the National Railway Historical Society's archives. Permission for commercial use of the photos, and higher resolution copies scanned from the negatives, can be obtained from the NRHS by contacting Mitch Dakelman at dakelmanm@aol.com. The photos are included on this website with NRHS permission.

Buffalo Creek & Gauley Railroad (Dundon, WV)
Cass Scenic Railroad (Cass, WV)
Ely Thomas Lumber Company (Fenwick, WV)
Middle Fork Railroad (Ellamore, WV)
Georgia Pacific Lumber Company (Swandale, WV)
Unnamed Railroad (Tunnelton, WV)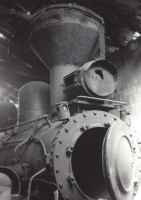 Page last verified or updated on March 13, 2021